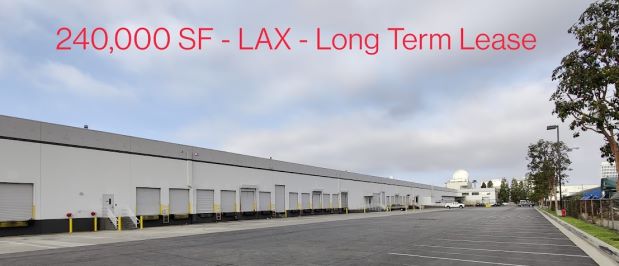 Acute space shortages are national news. Not only here in Los Angeles, where it's about the worst, but all over the United States. Many tenants are being caught short and others are taking space far in advance, at greater amounts, and at much higher cost. Price bidding leads landlords to weigh credit, use, and history. Credit is the most important enhancement because it notably increases the value of buildings. Larger landlords also favor tenants that will lease multiple buildings across their national holdings.

To obtain space, companies are looking farther away, out of state, or taking more than they need. With building rents at $1.50 to $1.75NNN per foot, there are sublease profits for tenants with excess space. Likewise, west coast investors are searching in gateway cities, secondary markets, and smaller towns. The only caution is where local industry is limited to one or two major companies.
The hardest affected are the manufacturers because space shortages are crimping their growth. Manufacturers face lease competition from ecommerce and logistics. On the purchase side, manufacturers are outmaneuvered by more nimble investors. If space shortages persist, critical manufacturing uses may become prioritized over others. Similar to federal involvement in the nation's ports, incentives are included in the current industry policy bills moving through Congress. For instance, $56 Billion for chip plants and $45 Billion for logistics and manufacturing. Lack of industrial space is a national security problem.
For brokers, finding space is primary. Entire buildings, parts of buildings, and yards are all in need. Brokers with a street operation and a history of relationships are most in touch with local tenants and owners; they are the first to find the space. It's the same on the sale side. Buildings are sold confidentially to a selection of trusted buyers, and they never hit the market. With prices approaching $300 per foot, private owners shun the publicity that comes with a high-priced sale.
Long-time industrial property watchers know it's a cyclical market. Conditions will change. Rising interest rates is one reason; a trade or economic war is another. But until the backlog clears, and space competition subsides, tenants can't afford to wait if they need the space to grow.